Europer metal sheet manufacturer engineer come to Superda check machine quality before shipment.
There are two roll forming lines, one for the rack column roll forming machine, another is shelf beam roll forming machine. Completed metal production line control by PLC, production engineer can setting parameter and operate it by Touch screen. Metal process manfuacturers arrange Engineers come to China study how to operate roll forming equipment and can check the machines quality also.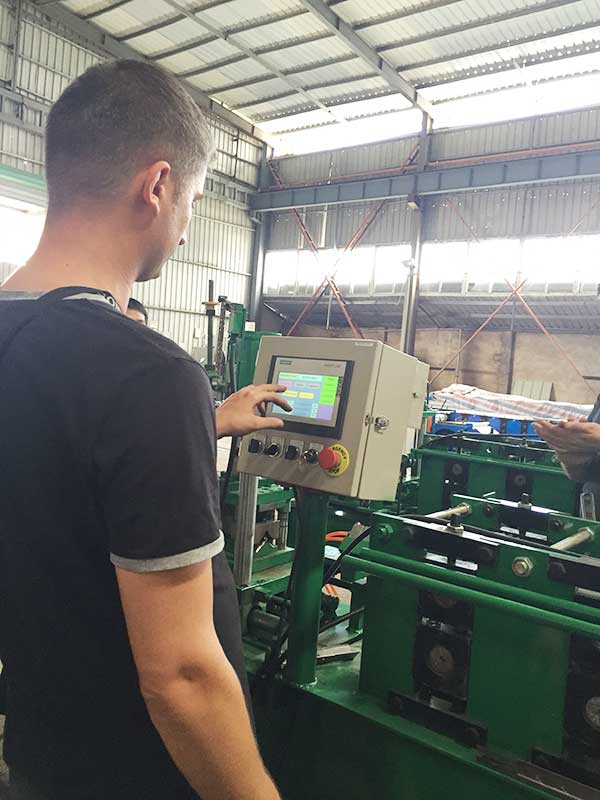 Rack shelves machines rollforming rack column and shelf beam must be fix well with each other, So, it have high precision requirement of machine technology and roller design, especial export europe machinery, the operation must be safety and automatic, and other hand, the formed completed rack shelves must be good looking not deform, not scratch. Processed products must be same with design drawing.
Light rack shelves, which using in home, supermarkets, the pharmaceutical industry, the food industry and so on lighter weight goods.
Storage rack shelving must be fix is very tight enough strong to support weight. And profile easy insert and easy take off. So, equipment for producing rack shelf desire high precision.
Furniture hardware manufacturer engineer is testing the tightness